GTIN-14 Data Structure
                          
Components of a GTIN-14
Indicator Digit – The indicator digit denotes the level of packaging for a particular carton. A number 0 – 8 should be used as the indicator digit. *This is a general practice please call if additional assistance is needed.
GS1 Company Prefix –The GS1 Company Prefix is a 7-10 digit number assigned by GS1 to uniquely identify ownership of a particular brand. Depending on the number of items a company needs to identify, a GS1 Company Prefix may be 7 to 10 digits in length.
Item Reference – For cartons that contain the same item the item reference is the same as that used for the item level GTIN (GTIN-8, GTIN-12, GTIN-13).  For cartons that contain an assortment of items a new item referenced is assigned.
Check Digit – The last digit of GTIN-14 is a calculated check digit. Using a MOD10 check digit algorithm, the calculated check digit prevents substitution errors.
GTIN-14 Data Carriers
There are several GS1 data carriers commonly used to convey GTIN-14 data structures.  The above illustrations conveys how both the ITF-14 and GS1-128 data carrier both have

GTIN-14 data structures.  To determine which data carrier should be used be sure to confirm;
Scanning Capabilities of your Trading Partner
Many legacy applications are programmed to use only the ITF-14 version of a GTIN-14.
Trading Partner Requirements

In order to accommodate traceability initiaves such as the Produce Traceability Initiave (PTI), many industries in healthcare and food distribution will require the GS1-128 data carrier for GTIN-14 barcode data to enable encoding the; Lot, Batch, Expiration within the same symbol.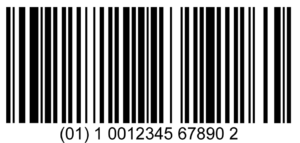 Assigning a GTIN-14 for specific type of carton
The following GS1 Videos explains in detail the GTIN-14 Data Structure, and how to an assign an Indicator Digit and Item Reference number for different types of cartons.
GTIN-14 Allocation Rules
The GS1 created the GTIN Allocation Rules to define how to assign a GTIN-14 for different types of cartons, cases, items.
Standard/Uniform Carton – Assigning a GTIN-14 for a carton containing the same items
A carton containing the same items is referred to as Standard or Uniform Carton which means all items in the carton have the same UPC-12(GTIN-12).  Standard/Uniform Cartons generally have an Indicator digit of a value between 1 – 8.  The Company Prefix and Item Reference (first 11 digits) of UPC-12 is the same as the items in the carton.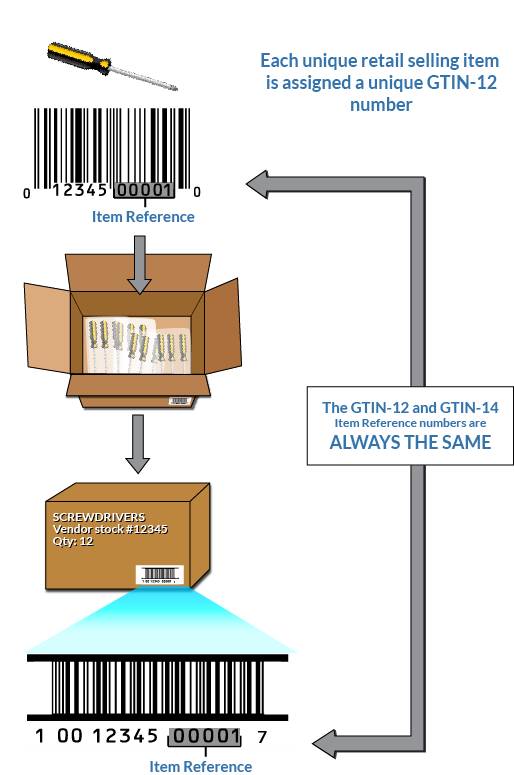 Mixed Assortment Carton – Assigning a GTIN-14 for a carton containing different items
A carton containing items which are marked with a different UPC-12, is referred to as a Mixed Assortment.  Mixed Assortments use a '0' for the Indicator digit followed by valid GS1 Company Prefix and then new Item Reference Number is assigned.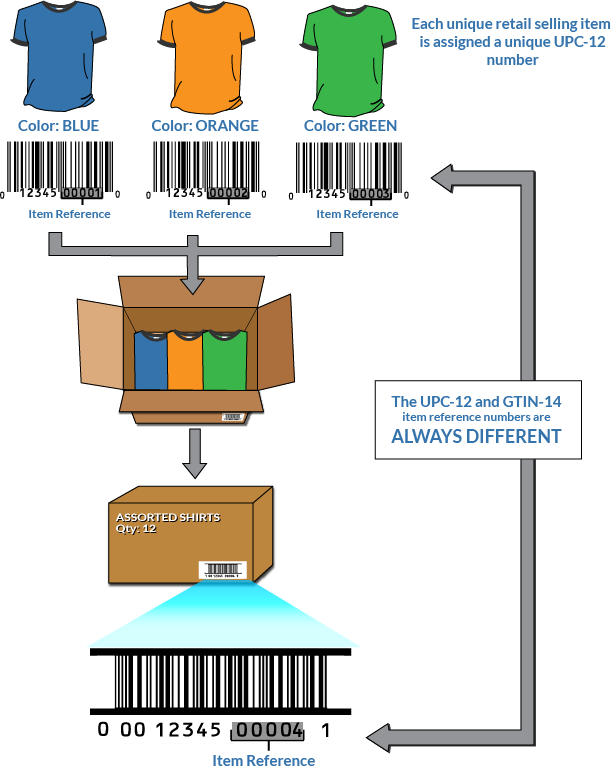 Applying a GTIN-14 to Cartons

A GTIN-14 can be printed directly onto an outer cartons if you have custom graphics already being printed on carton.  The graphic designer for the packaging graphics uses a Barcode Graphic File for the barcode.  Special size considerations need to be taken into account when printing a GTIN-14 corrugate cardboard due to the bleed factor, and associated challenges with maintaining an acceptable ISO/ANSI Barcode Print Quality Grade.
For companies who are using generic cartons or do not have any custom graphics being printed on outer carton will incorporate a GTIN-14 onto a label which is affixed to carton.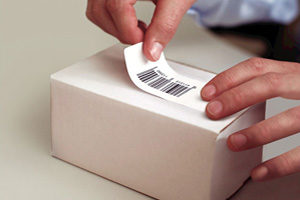 In choosing whether or not printing labels in-house using an on-demand printer (laser or thermal), or having a 3rd party printer provide printed GTIN-14 labels, we suggest contacting Bar Code Graphics to assist.  We support companies by providing; barcode label software, blank labels as well as printed barcode labels.
Note:
We do not recommend using inkjet technology to print GTIN-14 barcodes onto corrugated.  Inkjet printing does not have a high enough resolution to generate high quality barcode symbols.  We've worked with many companies who were using inkjet printing, and were having compliance issues and/or couldn't scan barcodes printed using inkjet.
GTIN-14 Sizing Considerations
The appropriate size for a GTIN-14 will determined by; Which Data Carrier?  ITF-14 or GS1-128, and whether or not symbol will be printed directly onto a carton or printed on a label.
GTIN-14 Formatted Using IFT-14
 
---
GTIN-14 Formatted Using  GS1-128

Educational Videos
The following GS1 video explains common GTIN issues.  We strongly recommend reviewing this video to prevent potentially assigning an invalid GTIN.