What is a Barcode Graphic File?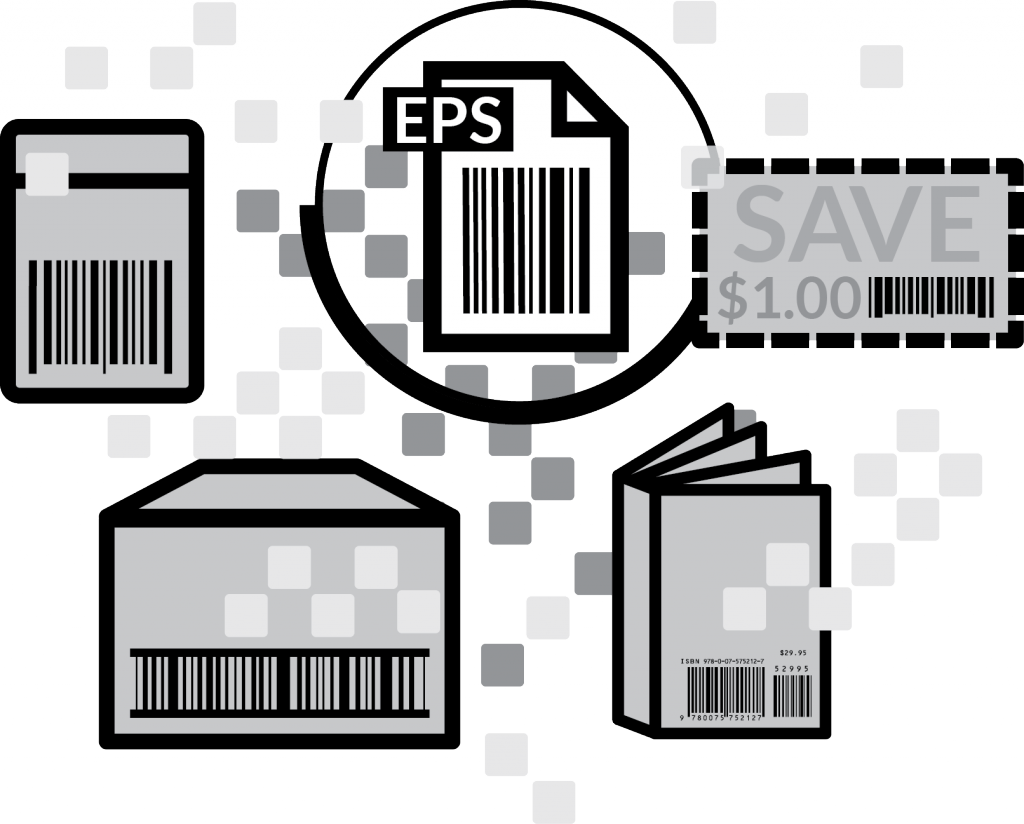 A Barcode Graphic File is an encapsulated postcript file (.eps) of a bar code image, for use within a graphic design.  In order to ensure a printed symbol can be read in the marketplace and supply chain, a high resolution barcode image is needed to compensate for growth which occurs when printing a bar code directly onto a;
Carton
Book
Coupon
Product Packaging
Label

As a specialist in barcode origination, Bar Code Graphics has been providing precision barcode artwork since the inception of the U.P.C symbol. Originally barcode artwork took the form of a photographic negative, which required manual positioning and paste-up by graphic artists. With the advancement of desktop publishing, barcode artwork moved to a digital form.  In order to preserve the necessary precision required for barcode artwork, barcode graphic files must be in a vector based format, such as .eps (encapsulated postscript).  Today, over 80% of the Top 500 Consumer Goods and Medical Device Companies rely on our graphic barcode files for their product, coupon and carton barcode markings.
Barcode Graphic Files can be immediately generated online  24/7 and are compatible with; Adobe Illustrator, Microsoft Word, Adobe InDesign, and many more.  Files can be downloaded from our online portal or emailed at CreateBarcodes.com. Customized barcode generation web services are also available.
GS1 Certified
In January 2005, our barcode application (PrecisionCode), which powers CreateBarcodes.com, earned GS1 certification.  This is the only application of this type to receive GS1 certification for software to create vector based barcode files (.eps).  The GS1 is the Global Standards organization which maintains Global Barcode Standards including the GS1 General Specifications.  The GS1 also offers software certification to ensure barcode software is capable of generating barcodes within the Global Barcode Standards.
GS1 Certification for our software means that we successfully completed a rigid certification process and demonstrated that every symbol created with our application, Precision Code, adheres to both the formatting and dimensional requirements of the standard.   Bear in mind the requirements for a Barcode Graphics File requires precision within   +/-.0002″, or else the tolerance ("room for error") allocated for printing is reduced.
The only way to confirm that a symbol will be printed with an acceptable ISO/ANSI Barcode Print Quality is to begin the process by using a certified Barcode Graphic File.
Raster vs. Vector
There are two types of computer graphics:
Raster – Composed of pixels.
Vector – Composed of drawing paths.
Raster Graphics

Raster graphics, also known as bitmap graphics, are an array of pixels with values indicating the color. The bitmap sizes are defined in pixels. BMP, TIF, GIF, JPG, PNG and most other graphics formats are raster graphics. Since the sizes are measured in pixels, the print dimension depends on the resolution of the printer. BMP records every pixel in the image, so the size is very big even for small images. Other formats use a compression algorithm to reduce the file size without causing great visual degrading. Overall, the physical size is unchanged, otherwise you will run into problems. To create a barcode for pre-press production, resolutions above 2400 are recommended. Consequently, a bitmapped file at this precision would be enormous in size.
Vector Graphics

A vector graphic contains the drawing instructions other than the color value in pixels. For both Mac and Windows platforms, EPS is the most widely used vector graphic format. A critical feature about our EPS files is that the dimension measurements are completely based on the output resolution of a printer. To use EPS, you need to have a printer with postscript enabled. SVG is designed to use with the World Wide Web, but they are not widely accepted. WMF is only supported in Windows platforms.
How to Use a Barcode Graphic File
The most common import commands are listed below.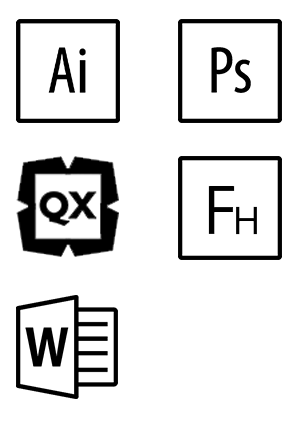 Adobe Illustrator:  File>Place – select your EPS file, click Place
Adobe Photoshop:  File>Place – select your EPS file, click Place
Quark Xpress: Draw picture box, File>GET PICTURE
Freehand:  File>Import – select your EPS file
Microsoft Office (Word, Excel, etc.):  Insert>Picture, From File – select your EPS file, click Insert
Key points to remember when working with a barcode graphic file:
Avoid using the OPEN command in ANY program.
Do not resize the image after importing it into the application. Doing so can compromise the scannability of the printed barcode.
Avoid judging the barcode quality by the on-screen preview. Many applications do not provide an accurate preview of a barcode graphic file. The quality of the image should be determined by the actual printed sample.
A postscript printer is required.
View this video for instructions on importing a barcode graphic file.
Order Online
Create high quality digital barcode files within minutes at CreateBarcodes.com

Compliant Symbols
To ensure accuracy of our symbols, all parameters such as magnification, bar width compensation and print resolution are in accordance with ISO and GS1 Specifications.
Convenience
Order history is archived, which makes reorders hassle-free.
Easy to Use
With the assistance of a step by step wizard anyone can create accurate barcode files within minutes.
Complete Support
Customer support is available through via email, phone, or live chat to assist at any point during the ordering process.