GS1-128 Barcode
The GS1-128 barcode (data carrier) was developed to provide a global standard for exchanging data between different companies. GS1-128 not only encodes the data, but it also provides a method of defining the meaning of the data by defining a list of "Application Identifiers" (AI's).   It is a GS1 Standard that defines both the kind of data and the data format. In essence, GS1-128 (also formerly known as UCC/EAN-128) is a derivative language of the Code 128 symbology, utilizing a flagging character (Function Code 1 (FNC1)) and application identifiers.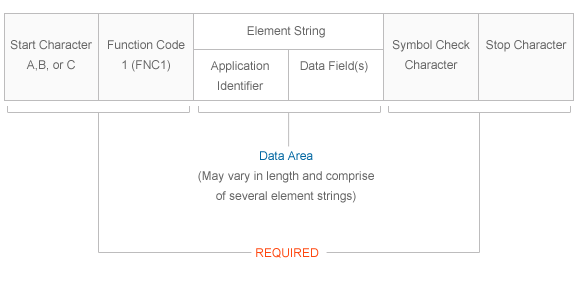 A GS1-128 barcode consists of;
Code 128 start character (START-A, START-B or START-C)
Code 128 FNC1 character
Application Identifier (AI)
Encoded Data
Symbol Check character
Stop Character
The GS1-128 shipping label is used for carton visibility throughout the shipping chain and is used by most major retailers. To learn more information about the GS1-128 shipping label, please see GS1-128 Shipping Label.
Application Identifier (AI)
GS1-128 symbol encode one or more AI to indicate what type, format and length of data encoded after the AI.
Table of Application Identifier (AI) Values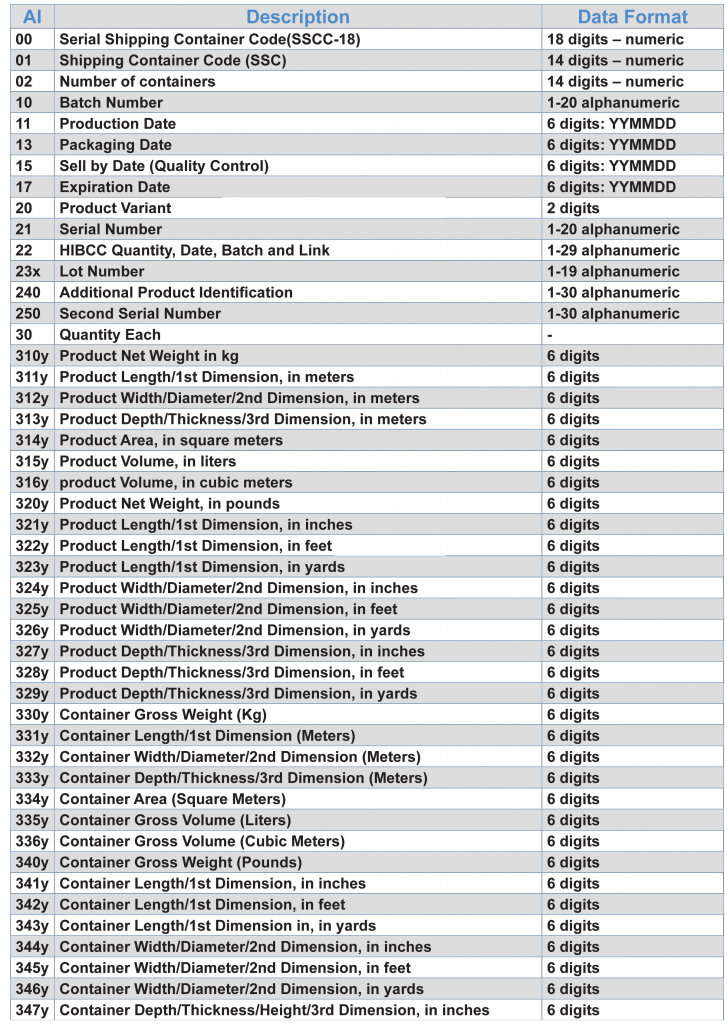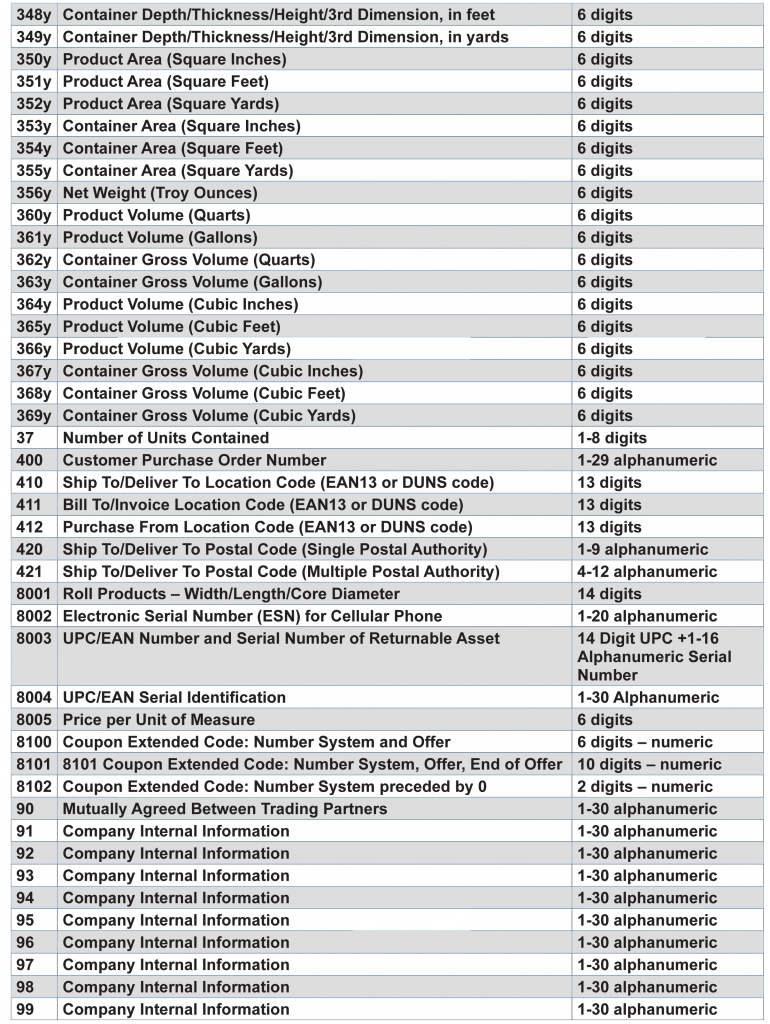 GTIN-14 Data Structure formatted using the GS1-128 Data Carrier
GTIN describes a family of GS1 global data structures that employs 14 digits in various data carriers. A GTIN-14 is a 14 digit number used to identify trade items at various packaging levels. Using a GTIN-14 for unique identification in food is handy for encoding Best Before dates, Batch / Lot numbers, and case weight.
GTIN-14 with additional fields (Expiration, Lot)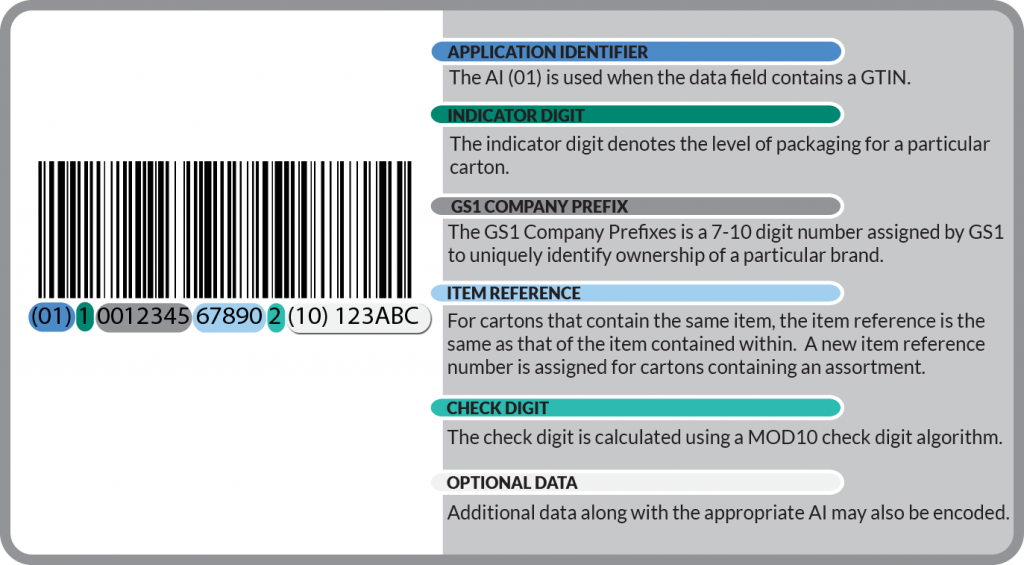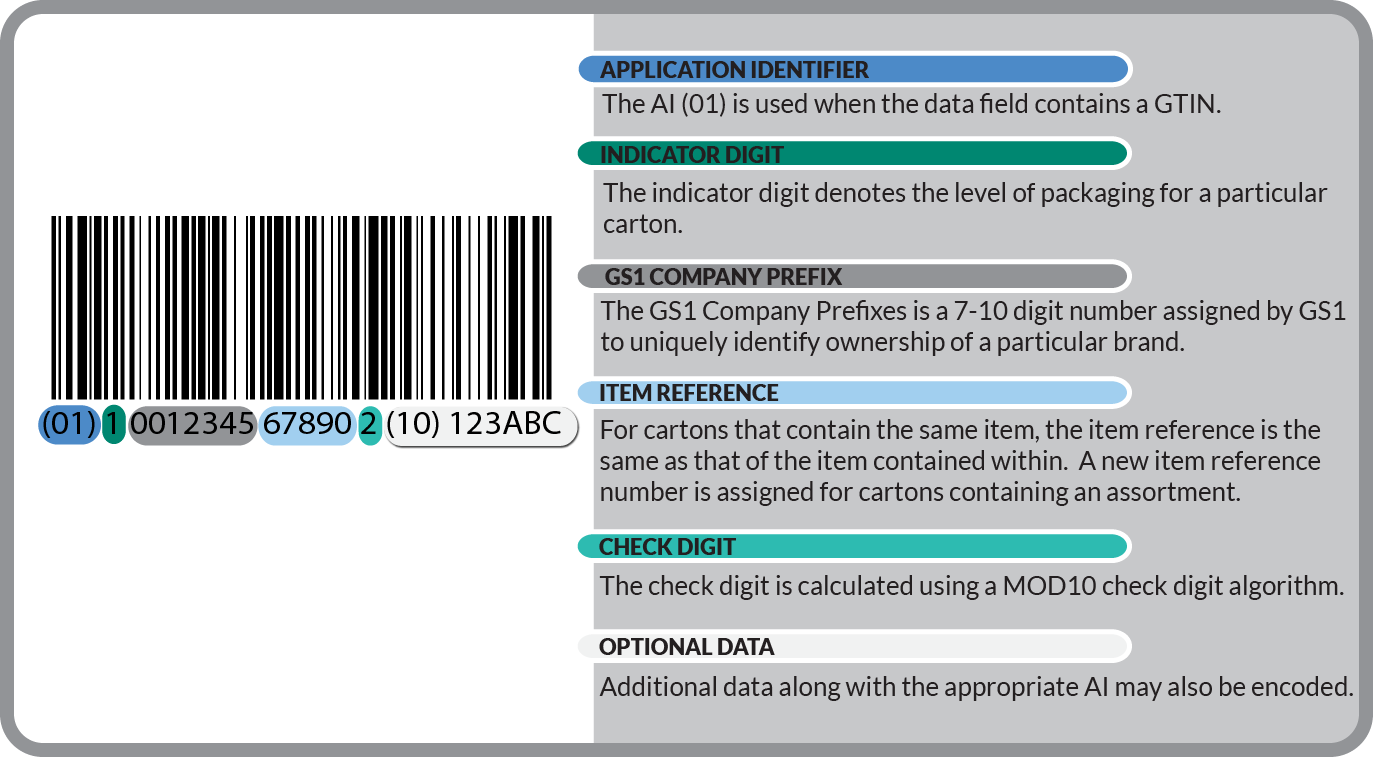 Application Identifier – The AI (01) is used when the data field contains a GTIN.
 Indicator Digit – The indicator digit denotes the level of packaging for a particular carton. A number 0 – 8 should be used as the indicator digit. *This is a general practice please call if additional assistance is needed.
GS1 Company Prefix – The GS1 Company Prefix is a 7-10 digit number assigned by GS1 to uniquely identify ownership of a particular brand. Click here to validate your GS1 Company Prefix.
Item Reference – For cartons that contain the same item the item reference is the same as that used for the item level GTIN (GTIN-8, GTIN-12, GTIN-13).  For cartons that contain an assortment of items a new item referenced is assigned.
Check Digit – The last digit of the GTIN-14 is a calculated check digit. Using a MOD10 check digit algorithm, the calculated check digit prevents substitution errors.
Optional Data – Additional data along with the appropriate GS1 Application Identifier may also be encoded.