GS1-128 Barcode
The GS1-128 barcode (data carrier) was developed to provide a global standard for exchanging data between different companies. GS1-128 not only encodes the data, but it also provides a method of defining the meaning of the data by defining a list of "Application Identifiers" (AI's).   It is a GS1 Standard that defines both the kind of data and the data format. In essence, GS1-128 (also formerly known as UCC/EAN-128) is a derivative language of the Code 128 symbology, utilizing a flagging character (Function Code 1 (FNC1)) and application identifiers.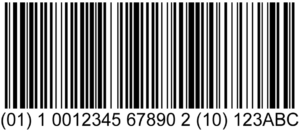 As displayed in the above illustration, the Application Identifiers are shown in the human-readable with parenthesis (01) and (10). Also, multiple Application Identifiers can be strung together in the barcode data. This feature enables data such as serialization and expiration to be encoded.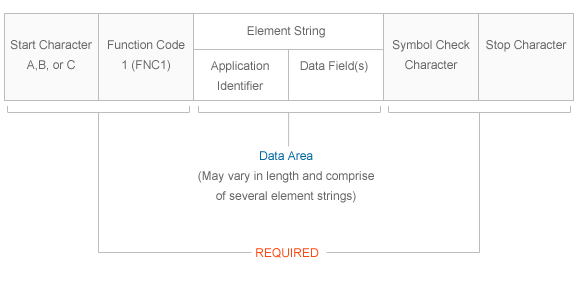 GS1-128 Barcode Components
Code 128 start character (START-A, START-B or START-C)
Code 128 FNC1 character
Application Identifier (AI)
Encoded Data
Symbol Check character
Stop Character
GS1-128 Barcode Shipping Label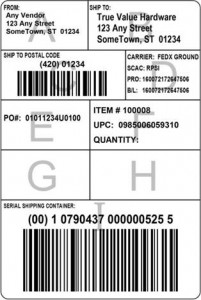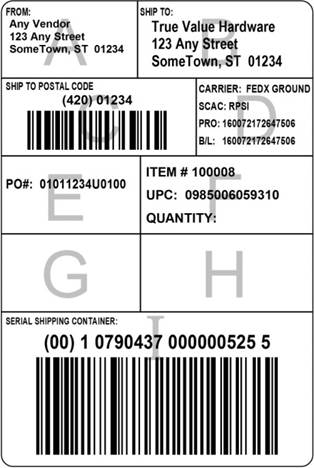 The GS1-128 barcode shipping label is used for carton visibility throughout the shipping chain and is used by most major retailers. It is very common for multiple GS1-128 barcodes to be included on a label. To learn more information about the GS1-128 shipping label, please see GS1-128 Shipping Label. In addition, Bar Code Graphics provides an educational website at https://wwww.gs1-128.info, which exclusively details GS1-128 barcodes.
Identification Labs, the testing division of Bar Code Graphics, is the designated testing authority for many top retailers and manufacturers. GS1-128 Barcode Shipping Labels are an integral component to retail supply chain logistics. The primary barcode on the shipping label is called the Serialized Shipping Container Code (SSCC-18) and is integrated with EDI data transactions. These labels enable retailers to know exactly the contents of each individual carton. To learn more about our GS1-128 Barcode testing and certification services, please visit https://www.barcode.graphics/barcode-testing/.
Creating & Printing GS1-128 Barcodes
Verifying GS1-128 Barcodes