GTIN Check Digit Calculator
This free check digit calculator is provided by Bar Code Graphics, Inc. We are the leading provider of GS1 support services in the US and specialize in barcode creation and identification implementation. Major retailers, manufacturers, ad agencies, and coupon processors utilize our services every day.
Calculated from the preceding numbers, the last digit of a barcode is the "check digit." The free calculator will determine the correct check digit for all forms of GTIN identification.
GS1 barcode compliance doesn't have to be as hard as reading the 517 page GS1 General Specifications. While our check digit calculator is a valuable tool, many aspects of assigning and maintaining compliance require a much more substantial resource.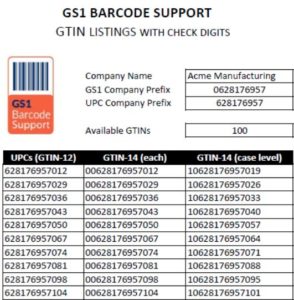 Our GS1 Barcode Support provides personal, comprehensive service to your company. Clients are assigned a personal consultant for one year, who will assist with UPC barcodes, GTIN-14 assignments, barcode production, and product information.
Included with GS1 Support is a GTIN listing spreadsheet with check digits for GTIN-12s & GTIN-14s. High resolution digital barcode files (.eps) are also provided.
Check digits can be manually entered below: