About Us: The Authority on Barcode Identification

Even though barcodes have become integrated into all of our lives, most people are unaware of exactly how they work and how they get included on products. That is where we come in.
Since the first UPC was scanned in 1974, we have been working with manufacturers, retailers, distributors, and printers on standardized barcode implementation. A barcode involves both encoded data and a machine-readable symbol (i.e. UPC-A barcode symbol). As our initial technical expertise was actually creating the precise original barcode artwork, hundreds of thousands of companies also began to rely on us to help obtain and manage their appropriate barcode identifiers (i.e. GTIN/ UPC). Today, our clients' barcodes are in virtually every store, library, and online marketplace.
Identification Services
Behind every printed barcode, there is some underlying data. There are global standard agencies that license respective industry identifiers. Whereas the standards agencies provide licensing and education functions, they do not provide actual barcode artwork (images) or assignment support.
GS1 Barcode Service/Support
UPC/EAN barcodes are a requirement for global retailers and marketplaces. GS1 is the licensing organization that provides the Prefixes/GTINs and educational webinars. Our team of certified GS1 Barcode consultants assists tens of thousands of companies every year with their new and ongoing GTIN assignments. Since global standards are quite complex and organizations contend with routine turnover, our support services enable companies to confidently comply with both global and retailer-specific requirements.
All GS1 Service/Support subscriptions include access to the GTIN.cloud management portal. GTIN.cloud is the online resource through which manufacturers upload and manage their UPC product data and images. All entered UPC product data is personally validated by an assigned GS1 barcode consultant before the UPC is published.
Our Publisher Services division provides focused support for small to medium self-publishers. We are the largest channel partner of the US ISBN Agency and provide authentic ISBN and barcode packages geared towards smaller publishers. Similar to our GS1 Barcode Service, our team of Publishing Consultants is available to personally assist new publishers with their identification and publishing needs. Please visit www.isbn-us.com.
---
Barcode Images & Web Services
Our legacy began when the framework of UPC numbering and barcode language was first conceived. With the finalization of the system, a problem emerged – how do we get a barcode label on every product that can be successfully scanned the first time at every point of sale system? Remember, this was a time long before digital printing was developed!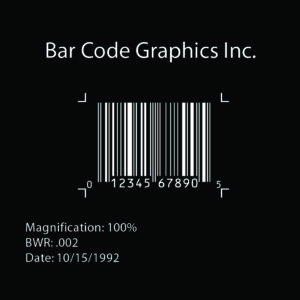 The only solution available involved the traditional printing process, made up of printers, designers, platemakers, and typesetters. Due to the constraints of available scanners and the limitations of linear barcodes, every drawn code had to be created with a precision of +/-.0002″.
The Only Certified Solution for Barcode Files
The birth of desktop publishing completely changed the entire printing industry. Digital artwork rapidly replaced the analog photographic medium for all types of artwork, including barcodes.
In 2001, Bar Code Graphics launched the first online application for creating digital barcodes with software (PrecisionCode) that adhered to the UCC's strict criteria. This web application is still available at www.createbarcodes.com and is continually enhanced as new barcode languages are developed. GS1 US began offering software certification a few years later and the PrecisionCode program became the only certified software to create .eps image files.
Digital Barcode Web Service Solutions
Since our PrecisionCode software resides as a web-based software tool AND is still the only certified application to create high precision vector-based .eps barcode files, it is the barcode origination backbone for many solutions serving the retail and pharmaceutical industries. Our web service tools enable seamless barcode origination and delivery for our partners' web applications. Over 2 million barcode images are created yearly through our licensed web service. To learn more, please contact sales@barcode.graphics.
---
Identification Labs: Barcode Testing Services
Identification Labs is Bar Code Graphics' barcode testing and certification business, and it is the largest barcode testing organization in North America. This division serves as the go-to source for barcode information for top manufacturers, distributors, and retailers. Identification Labs discerns WHETHER a barcode is acceptable as well as what is required to resolve instances when barcodes fail because of our unique history in both supply chain technology and barcode printing.
Barcode Evaluations & Certification
Identification Labs Certification ensures that a supplier ship point is prepared to comply with a specific barcode requirement. Our certification process requires an analysis of a printed sample to verify:
Barcode is formatted correctly
Barcode is generated within the permissible size range
Acceptable media is being utilized
Minimum ISO/ANSI Barcode Print Grade
Alignment with relevant barcode standards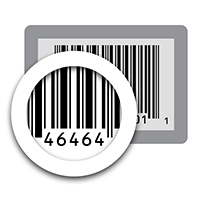 Our testing lab has the capability of evaluating any GS1-128 Shipping Label, GTIN-14, UPC, UDI label, or other standards-based shipping and identifying labeling. Suppliers frequently employ our services when a modification is made to their label production model or when they get offset expenses and are unable to determine the source of the infraction or authenticity.
Barcode Compliance Administration
In the 1990's, we were selected by Sears Roebuck to help their suppliers not only implement their supply chain barcodes but also monitor their performance. Over the years, we have expanded our services to the top US retailers and other industries.
Vendor Guide/Specification Development
A clear and simple set of specifications is the foundation of any barcode program. Identification Labs develops new vendor requirements, updates current ones, or simply assesses and makes recommendations to align existing requirements with relevant standards.
Certification Programs
A certification program makes certain that suppliers can create the labeling and barcoding that your business needs. Programs may require certifying the whole supplier base or may concentrate on fixing issues as they arise. Designing, putting into practice, and managing certification programs is what Identification Labs has done for many years.
Supply Chain Monitoring
Barcode scanning issues that go unreported or are simply defined as "non scans" aren't going to go away and are always going to be a drag on the bottom line. Our monitoring programs provide actionable information on barcode rejects. We have experience both acting as a component in an existing monitoring or compliance program as well as implementing stand-alone programs. Our focus is always on getting the best data with the least disruption.
Process Audit
There are numerous potential things that can go wrong between the time a company's barcoding software is opened and the time a pallet leaves its four walls. Identification Labs can analyze barcode & labeling methods from start to finish and advise on solutions, adjustments, and best practices, regardless of whether the goal is to maximize scan rates or minimize offsets. Our years of experience in the compliance and standards domains will assist firms of all sizes.
---
Our strategy for providing customer service is fundamentally different from that of the standards organizations, which see it as an expense. Contrarily, we view direct interaction with clients as a chance to verify barcode compliance, advance knowledge, and foster loyalty.