Amazon Product Identifier
Most Amazon categories require sellers to use a product identifier number (Product ID) to create new product pages and listings. When adding a product on Amazon.com, it's important to take into account the type of products you want to sell, the quality of your product data, and the specific requirements for selling in that product category.
Amazon Product ID requirements;
Many categories have specific UPC/EAN and GTIN guidelines that sellers are required to follow when creating product pages. These include requirements for products sold as bundles and requirements for products sold as packs.

UPC requirements may vary across categories or for different types of products in the same category. 

Sellers must use the correct product identifier for the item they are listing. The use of false product identification information, including UPC codes, is prohibited.

ISBN barcodes are required when uploading listings for books.
In order to set-up a new product listing on Amazon, you will need either a valid UPC or ISBN number;
ISBN Barcode number, click here
GS1 UPC Barcode number, click here
UPC Barcode (Used for most items)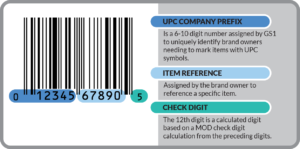 For more information regarding UPC barcodes, go to UPC Information.
ISBN Barcode (Used for books)
For more information regarding ISBN barcodes, go to ISBN Information.
ASIN (Amazon Standard Identification Number)
Amazon Standard Identification Numbers (ASINs) are unique blocks of 10 letters and/or numbers that identify items. You can find the ASIN on the item's product information page at Amazon.com. For books, the ASIN is the same as the ISBN number, but for all other products a new ASIN is created when the item is uploaded to Amazon's catalogue. You will find an item's ASIN on the product detail page alongside further details relating to the item, which may include information such as size, number of pages (if it's a book) or number of discs (if it's a CD).
ASIN barcodes can be used to search for items in Amazon's catalogue. If you know the ASIN or ISBN of the item you are looking for, simply type it into the search box (which can be found near the top of most pages), hit the "Go" button and, if the item is listed in the catalogue, it will appear in your search results.
For example, the ASIN barcode for Hasbro's "Monopoly" game is B00005N5PF.