GTIN-14 Data Structure
GS1 is the global standards organization for item and logistical identification. Whereas UPC (GTIN-12) are commonly used as the identifier for items which will be read by a point of sale scanner, GTIN-14 data structures are used for logistical packages of items.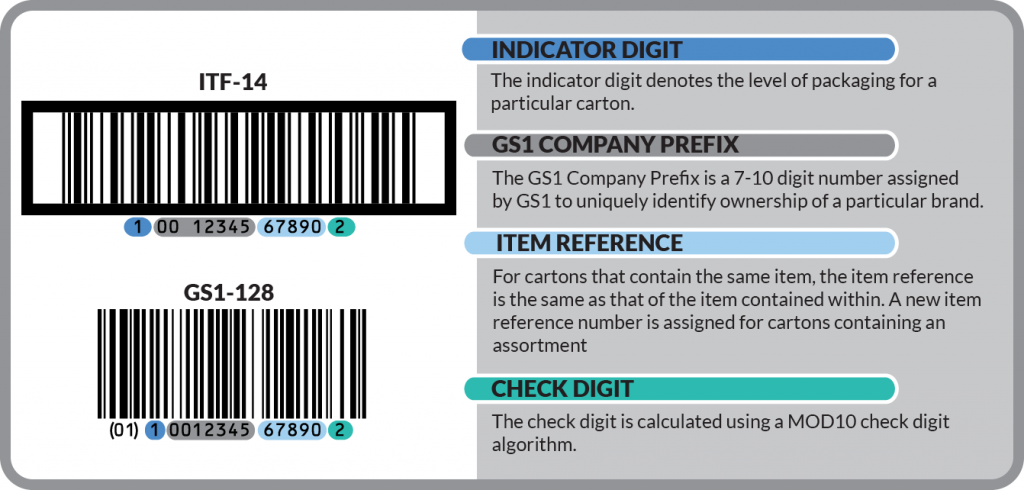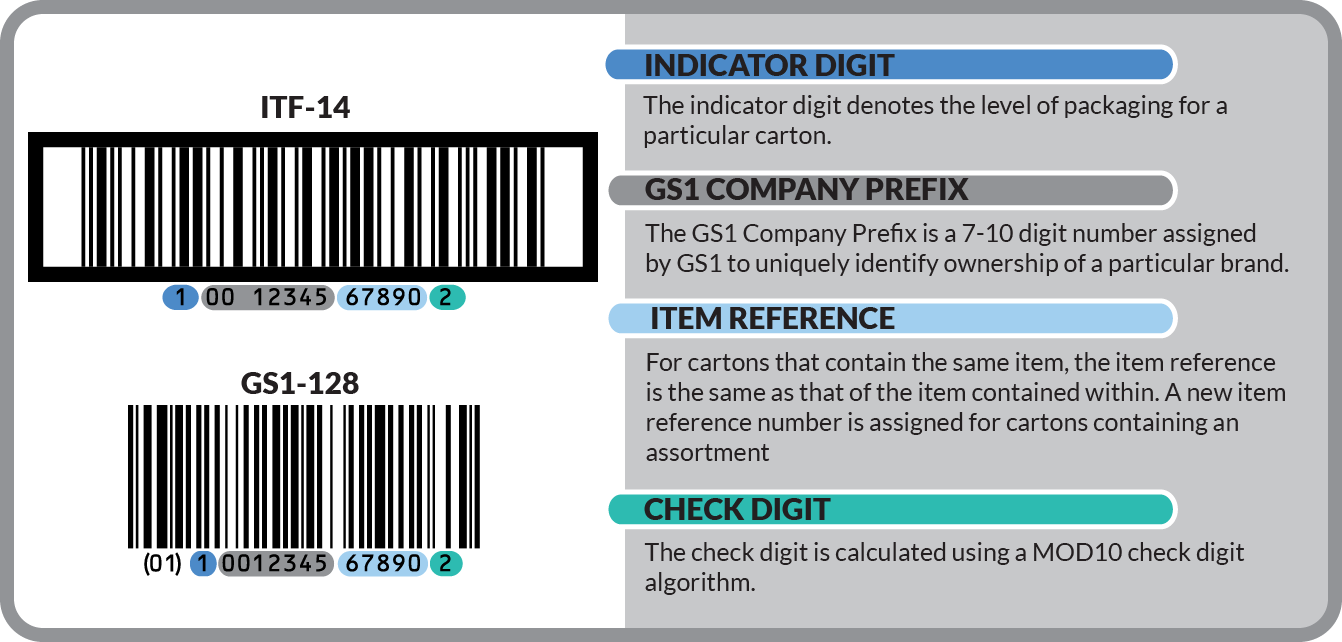 Components of a GTIN-14
Indicator Digit – The indicator digit denotes the level of packaging for a particular carton. A number 0 – 8 should be used as the indicator digit. *This is a general practice please contact us additional assistance is needed.
GS1 Company Prefix –The GS1 Company Prefix is a 7-10 digit number assigned by GS1 to uniquely identify ownership of a particular brand. Depending on the number of items a company needs to identify, a GS1 Company Prefix may be 7 to 10 digits in length.
Item Reference – For cartons that contain the same item the item reference is the same as that used for the item level GTIN (GTIN-8, GTIN-12, GTIN-13).  For logistic cartons that contain an assortment of items a new item referenced is assigned.
Check Digit – The last digit of GTIN-14 is a calculated check digit. Using a MOD10 check digit algorithm, the calculated check digit prevents substitution errors.
GTIN-14 Data Carriers

There are several GS1 data carriers commonly used to convey GTIN-14 data structures.  The above illustrations convey how both the ITF-14 and GS1-128 data carrier both have GTIN-14 data structures.  To determine which data carrier should be used be sure to review your trading partner requirements. Most retail organizations today require the ITF-14 barcode symbol for the carton marking. Medical devices commonly use the GS1-128 barcode. Many legacy applications are programmed to use only the ITF-14 version of a GTIN-14.
Trading Partner Requirements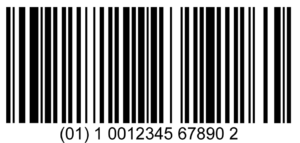 In order to accommodate traceability initiatives such as the Produce Traceability Initiative (PTI), many industries in healthcare and food distribution will require the GS1-128 data carrier for GTIN-14 barcode data to enable encoding the; Lot, Batch, Expiration within the same symbol.
Click Here for GS1 Support Involving GTIN-14 Barcodes
Creating & Printing GTIN-14 Barcodes
Verifying GTIN-14 Barcodes