ISBN Bookland EAN Barcode
In the United States, most retail products are marked with a UPC symbol. The corresponding barcode symbol in use in every other country aside from the United States is the European Article Number (EAN). Every EAN begins with a 2 or 3 digit prefix, which indicates the country of origin. EANs for companies registered in France, for example, might begin with the prefix 34; Japan's prefix is 49. Since the book industry produces so many products, it has been designated as a country unto itself and has been assigned its own EAN prefix. That prefix is 978 and it signifies Bookland, that wonderful, fictitious country from where all books come.
An EAN which begins with the Bookland prefix 978 is called a Bookland EAN code and is used on books and book related products internationally. The Bookland symbol is the barcode of choice in the book industry because it allows for encodation of ISBNs (the numbers publishers use to identify their products). Since an ISBN is unique to one particular title (or product), the corresponding Bookland EAN symbol is a title-specific marking which is unique for that title. For example, if a title is available in hard cover, soft cover and as an e-book, three unique ISBN Bookland EAN bar codes are required.
The ISBN Bookland EAN Barcode also conveys US pricing information in the add-on barcode symbol.  The 5-digit barcode conveys the pricing information and follows establish rules for encodation.  For prices below $99.00, a 5 is added to the right followed by the four digit price (no decimal point).  Many US retailers and states also require a printed price to also be included.
ISBN Barcode Assignment
The International ISBN Agency in the UK coordinates all ISBN allotments while individual group agencies assign ISBNs for each country. Every country has an organization which administers these numbers and the U.S. ISBN Agency is run by Bowker. Bar Code Graphics, Inc. has an agreement with the US ISBN Agency and our Publisher Services division is able to act as an agent for small publishers and facilitate single ISBN assignments with a publisher's name listed as the registrant (Personalized Publisher Program). Today, Publisher Services is now the largest authorized agent and provides the majority of ISBN assignment to self-publishers.
Mark Book with an ISBN Barcode
There are 2 ways to mark items with a ISBN Barcode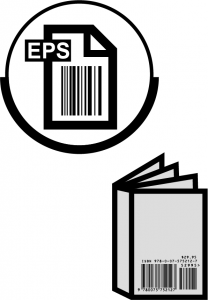 Incorporate ISBN directly onto cover design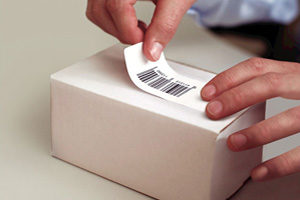 Affix a pressure sensitive label (sticker) onto book
The best options depends on several factors
Does your item have custom packaging?  If it does, then incorporating the label into the package design would be