In May 2016, Amazon quietly made a significant policy change to the Amazon UPC barcode policy: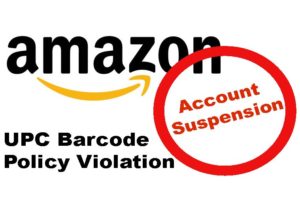 "We verify the authenticity of product UPCs by checking the GS1 database. UPCs that do not match the information provided by GS1 will be considered invalid. We recommend obtaining your UPCs directly from GS1 (and not from other third parties selling UPC licenses) to ensure the appropriate information is reflected in the GS1 database.
Important: All invalid product UPC/EAN listings will be removed, which may result in your ASIN creation or selling privileges being temporarily or permanently removed. For more information on licensing UPCs/EANs from GS1, see the GS1 standards website."
What does the Amazon UPC barcode policy change mean for your company?
This requirement impacts not only new suppliers desiring to sell on Amazon but also existing sellers who risk having their account suspended. Suspended sellers not only lose time and money trying to get reinstated but also forfeit lost profit which comes with blocked listings and account suspension.  The new Amazon UPC barcode policy allows them better control of ensuring valid product listings and reduces the chance of duplicate/incorrect listings.
By obtaining UPCs via GS1, sellers are provided a GS1 Company Prefix which uniquely identifies their company.  Unfortunately, many companies, both large and small, obtained their UPCs through 3rd parties called UPC resellers. UPCs provided by a reseller use common GS1 Company Prefixes and do not represent individual companies.  When Amazon first launched over two decades ago, they simply required an ISBN or UPC to be listed on their online marketplace and eager sellers flocked to low price UPCs, unaware of the limitations. Amazon, like many other companies, requires the Company Prefix to reflect the actual brand owner and not some 3rd party reseller company. Amazon is now comparing the UPCs on newly listed items with the GS1's database to validate the GS1 Company Prefix is associated with the brand seller.
Who are UPC resellers?
UPC resellers are companies that obtained UPC company prefixes prior to 2002 from the Uniform Code Council, who later became GS1 US. In 2002, the GS1 amended the agreement for new companies who needed a UPC prefix to state, "The license agreement for our membership prohibits any use of the Company Prefix other than for the use of the owner company, including but not limited to selling, sharing, leasing, sub-dividing, or re-selling the Company Prefix." Since this statement was not included in the original application for companies who obtained UPC company prefixes prior to August 2002, UPC resellers use the settlement agreement as justification that they can sub-divide numbers from older prefixes. It is important to understand that including UPCs on products is not a legal requirement. It just so happens that all major retailers, wholesalers and distributors have built POS and supply chain systems dependent on UPC barcodes and make UPCs part of their supplier requirements.
It is quite common for online UPC resellers to make misleading claims on their websites. For example, many often advertise that they have official UPC codes or UPC codes that originate from the GS1. A few UPC resellers have also engaged in illegal business practices and have been investigated by the Federal Trade Commission (FTC) for price fixing.  As a result, we highly recommend that prior to purchasing from a reseller that clients take into account their limitations and potential liability.
What should a company do if they purchased from a UPC reseller?
Amazon is apparently now checking the GS1 Company Prefix for all NEW sellers as part of their onboarding process. If Amazon identifies a conflict with your UPCs, their Amazon UPC barcode policy dictates your account will be suspended until correctly identified UPCs are obtained and entered. There are thousands of current Amazon sellers who are using and have listed incorrect UPCs on Amazon. Unless an unrelated problem is identifiers or a change is made to a product, Amazon is currently not suspending those sellers' accounts. Unlike traditional retailers, who commonly have buyers working directly with suppliers, Amazon's supplier relationship is very distant. Consequently, if an issue, such as incorrect UPCs, is identified, the sellers really do not have an advocate within Amazon to assist them. There are countless horror stories of companies forced out of business when their Amazon seller account becomes suspended.
If you do not recall where you purchased your UPCs or wish to view the brand owner of a UPC, you can check UPC Company Prefix ownership by clicking here.
Companies who need to obtain UPCs with a GS1 Company Prefix in their name should click here.