GS1 Support and GTIN Guidance
Whether you intend on selling at Amazon, Walmart, Kroger, Macys or any other retailer, UPCs/GTINs are a critical part of your product and can contribute to your company's success or failure. Companies ultimately bear the responsibility of correctly assigning UPCs and making sure that the current global GS1 standards are followed. GTIN identification starts at the individual product and can encompass multiple levels of package, as illustrated below.

GTIN Implementation Options
Most companies utilize our GS1 services to manage/create their UPC/GTIN barcodes rather than investing time and money in learning how to correctly implement the GS1 numbering and barcode standards. Larger organizations, such as Kraft or Levis, have dedicated teams of individuals who manage GTINs and product data. Small to medium size companies either have an individual who becomes educated on GS1 standards and trading partner requirements or rely on barcode authority for guidance.
GS1 Support Services
Ever since the first product needed a barcode, our consultants have been assisting companies with all aspects of their creation and implementation. As the authority on barcode creation and print quality, we have directly or indirectly touched most suppliers in the major retail stores.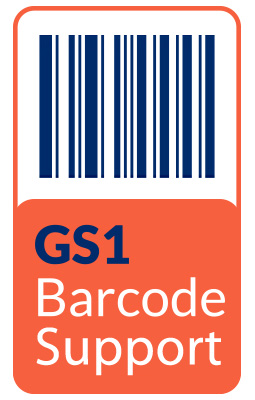 The GS1 Support Service bundles several of our services for companies who already have a brand assigned GS1 Company Prefix and require ongoing support from an expert. Access to the global UPC Product Data registry, GTIN.Cloud is included with every support subscription.
Most companies jump right in and start assigning UPCs but are not equipped to address changes and different levels of packaging. Even if someone did go through GS1 training (below), employee turnover is commonplace and GS1 standards continually evolve.
---
Insure Your UPC Barcodes Are Compliant
1 Year of Comprehensive Personal Support
UPC item and GTIN-14 carton identification managed on GTIN.Cloud
Credit For: Digital Barcode Files | Printed Barcode Labels | Barcode Testing
GS1 Support programs are utilized by companies who do not have a GS1 trained employee on staff or a dedicated team to address the item and carton identification requirements for their trading partners. In addition to personal ongoing assistance with GTIN (all level) assignments and product data uploads, the bundled service includes a product credit which can be used for high resolution .eps barcode files, printed barcode labels or ISO/ANSI barcode printed quality testing. The GS1 Support Service fee is based on the total number items available with your Company Prefix. To proceed, click on the appropriate SELECT link.
| Number of Items | GS1 Support Fee | Included Product Credit | |
| --- | --- | --- | --- |
| 1 -10 | $150 | $150 | SELECT |
| 1 – 100 | $250 | $400 | SELECT |
| 1 – 1,000 | $1,000 | $1,000 | SELECT |
| 1 – 10,000 | $2,000 | $1,500 | SELECT |
| 1 – 100,000 | $2,500 | $2,000 | SELECT |
To speak with a GTIN support representative please call 800-662-0701 or click on the Chat button below. If your company DOES NOT have a GS1 Company Prefix, please CLICK HERE.
Please refer to the above table if you think your company can benefit from ongoing expert assistance. Please take note of the provided product/service credit. For those companies who wish to manage these tasks in-house, the information below provides links to GS1 educational training.
Content and Classes
GS1 standards are compressed in a 528-page document called the GS1 General Specifications. This comprehensive standard is updated yearly and available online. GS1 US does provide an array of educational classes which enable companies to learn GS1 standards themselves. Digital .eps barcode files and labels can always be purchased separately from Bar Code Graphics.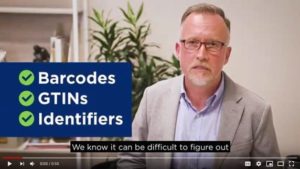 GS1 offers a comprehensive 6 hour online course ($450)
Correctly assign/manage unique products & packaging levels via GTINs and barcodes
Perform efficient item set-up, so that it is done right the first time
Properly measure package dimensions for efficient shipping & shelf management