Attention Walmart Suppliers! Cleanup needed in the GTIN aisle
Walmart recently announced big changes to its item setup requirements. All new items will require GTINs assigned to all levels of packaging – the each, warehouse pack, case pack, and pallet will all need a unique GTIN. The requirements follow the GS1 Standards for GTIN allocation and packaging hierarchy and allow for more accurate ordering and tracking. Walmart announced that all GTINs will be validated to ensure accuracy. See announcement below.
Suppliers should be careful. Misinterpretation of the Walmart requirements and best practices can lead to wasteful GTIN assignments or even incorrect and conflicting assignments. Fulfilling these tasks relies on a full understanding and experience with the GS1 GTIN allocation rules.
Bar Code Graphic's GS1 Barcode Support services are perfect for suppliers that need anything from technical guidance to comprehensive support with creating and maintaining item hierarchies and GTIN assignments. Whereas the GS1 Barcode Support is for companies who already have their brand assigned GS1 Company Prefix, UPC Barcode service is available for companies new to UPC barcoding.
What is a GTIN?
GTIN stands for Global Trade Item Number and refers to all levels of packing which could be purchased and maintained in an inventory system. A GTIN is the number which is used to identify something which can be purchased, sold or put into inventory. This includes; individual items which can be purchased by a consumer as well as cases of items which could be purchased by a retailer and moved within their supply chain. In short, a GTIN is an umbrella term used to refer to items and cases which may need to identified with a GTIN barcode.

GTIN Hierarchy
An item hierarchy details the packing configurations for all levels of packaging. A typical setup might have the individual selling unit as the base unit, with multiple of this item packed into a shippable carton. And then multiple cartons packed onto a pallet. The hierarchy would detail which item(s) are present, how many, and in what packaging configuration for each level.
Walmart is requesting that all levels have a GTIN assigned to them, and that suppliers verify the accuracy of both the configurations as well as dimensions.
Here is an example hierarchy with GTINs assigned: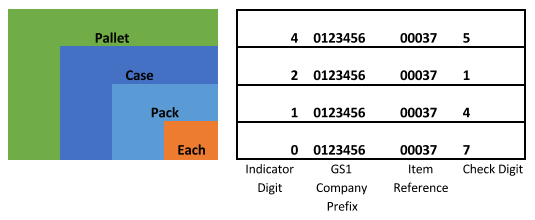 Packs That Are Both Consumable and Orderable
Special consideration must be given to items that are sold in the same configuration that they can be shipped or ordered in. There are special rules in place when there is an overlap of the shipping and ordering units depending on how the item is packaged, sold, and ordered.
Walmart GTIN Announcement March 2019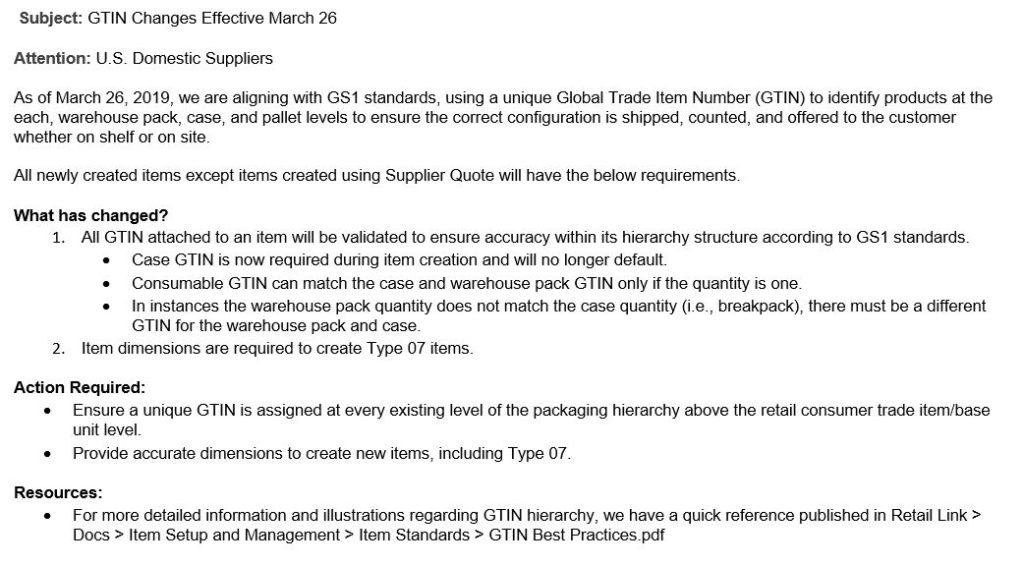 Update March 2020 – New Verified By GS1 Initiative
Walmart Supported – What Suppliers Will Need To Do
Walmart and other global retailers appreciate the benefits of this initiative and it will soon be a requirement for manufacturers to gain access to marketplaces. Just as marketplaces, such as Amazon, today use the Data Hub to validate GS1 Company Prefix ownership, they will soon use this tool to verify the accuracy of suppliers' GTINs.
Understand the Attribute Requirements – Each GS1 data field attribute has specific requirements. The digital image and Global Product Classification requirements can be somewhat complex.
Upload Additional Field Attributes To Data Hub – Data can either be key entered or uploaded via spreadsheet to the Data Hub. There are new expanded data fields which have recently been added.
Verification of Attribute Data – Since the goal of this initiative is to present accurate and complete product data, a secondary individual or 3rd party should review all data before publishing to the Data Hub repository. As stated above, GS1 does not actually verify the accuracy but just validate that information is present.
GS1 Barcode Support will now include assistance for the Verified By GS1 initiative. GS1 Barcode Service/Support clients have an assigned personal consultant who not only assists with barcode creation but also helps manage accurate product data. Consultants will also assist with GS1 Global Product Classification codes. Since each GTIN requires a product image at a designated url, the GS1 Barcode Support packages now include image hosting at no additional for companies who do not currently host product images online.
If you are an existing GS1 Barcode Service/Support client, please contact your personal consultant for immediate assistance. Over the next few months, we will be reaching out to all of our thousands of clients.
Companies who are not current GS1 Barcode Support clients can take GS1 US educational online classes and workshops at https://www.gs1us.org/education-training/gs1-us-university/certificate-and-workshop-education . To sign up for GS1 Barcode Support, please visit https://www.barcode.graphics/gs1-support/ or email sales@barcode.graphics.