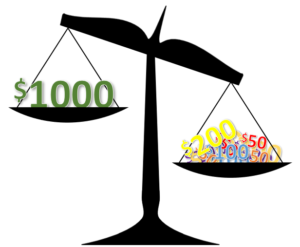 A $1,000 compliance offset (hopefully) grabs your attention.
But a steady stream of $50 offsets, and a handful of sub-$200 here and there? Maybe they get looked at, maybe they don't, maybe they are just the "cost of doing business".
But the truth is, they add up. If you are receiving GS1-128 (UCC-128) shipping label offsets with any regularity, you need to CERTIFY your labels.
One of our "aha" moments was when JCPenney prompted suppliers to certify following any shipping label defect. In the following months we saw a measurable decrease in formatting related errors. Instead of waiting for a retailer to suggest it and continuing to accrue offsets, you should apply this mentality to all of your accounts.
Is it enough to correct the label based on what was wrong in the offset? No – if you are fortunate enough to get detailed feedback with your offsets, corrections made based only on feedback from compliance reporting will always be less effective and more limited. What it amounts to is always addressing the symptoms and not the causes.
Remember – a label that is just good enough to be compliant is also a label that is just about to be non-compliant.
Certification from Bar Code Graphics costs $75 per sample. If you've received any labeling offsets, this should be an easy decision to make. Instead of saying "here is one reason why this didn't scan" certification allows us to say "here are all the factors that could impact scanning".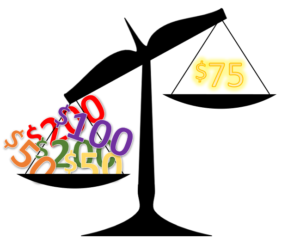 For the retailers that we partner with, we're able to promote and guide suppliers to certification immediately after any shipping label related compliance issues. In some cases, re-certification is simply built into the compliance process – if a label fails in the supply chain that means you automatically need to certify a corrected sample.

For the retailers who we aren't integrated for compliance, we still tests those labels but it depends on a supplier taking the initiative. Every day we test labels from retailers like Dick's, Target, and Macy's. These are from suppliers that are taking control of their compliance and focused on reducing offsets.

Last but not least, if you've received an offset for your shipping labels that was a little sparse on details or just didn't seem right, certification will help build your case that an offset was taken in error.

Register for label testing now with our updated checkout process:
https://www.barcode.graphics/identification-labs-testing/



Retailer suppliers are highly encouraged to read our 2019 GS1-128 Shipping Label Implementation Report.


About The Author
Brien Fennell is a divisional manager at Bar Code Graphics for over 10 years. Brien develops and manages barcode compliance programs for a variety of industries. He has passed numerous GS1 certifications ranging from barcode print quality to digital content. As a leading authority on barcode structure and compliance, Brien has authored numerous industry and trading partner barcode guidelines.