GTIN Barcodes
GTIN Barcodes are the data carriers which serve as the vehicle for a GTIN.  Today, 5 GTIN barcodes (symbologies) are commonly used to support the GTIN data structure: UPC; EAN; ITF-14; GS1-128; and GS1 Databar.   Of these, ITF-14, GS1-128, and GS1 Databar employ 14-digit data structures of which the 14th character is a packaging level indicator (i.e., item or case).
Both UPC and EAN have an implied packaging level of a single item. Therefore, these GTIN barcodes support the GTIN data structure without changing the number of encoded data characters.
GTIN-12 (UPC-12)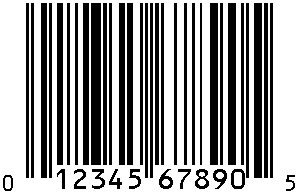 GTIN-13 (EAN/UCC-13)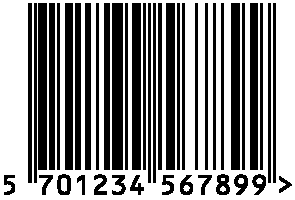 GTIN- 8 (EAN/UCC-8)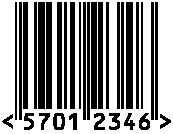 GTIN-14 (ITF-14)

GTIN-14 (GS1-128)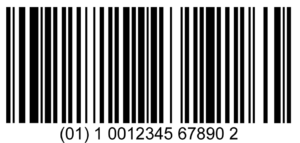 The table below further illustrates the relationship between GTIN, legacy terminology, GTIN Barcodes and use at point of sale. In most cases, the legacy terminology and the data carrier are called by the same name. GTIN changes this by separating the name of the data structure from the data carrier or, in this case, the GTIN Barcode (symbology).
GTIN Data Structure
Legacy Terminology
Symbology
Use at POS
GTIN-12
UPC
UCC-12
UPC-A
UPC-E
Yes
GTIN-13
EAN
JAN
EAN-13
EAN-13
Yes
GTIN-8
EAN-8
EAN-18
Yes
GTIN-14
EAN/UCC-14
GS1-128
Not Yet
GTIN-14
ITF Symbol
SCC-14
DUN-13
UPC Case Code
UPS Shipping Container Code
UCC Code 128
EAN Code 128
Interleaved 2 of 5
Not Yet
GS1 is the global standards identification organization. Bar Code Graphics is the leading authority on barcode origination and print quality. Whereas GS1 provides the standards and GS1 Company Prefix licensing, Bar Code Graphics enables companies to get GTIN barcodes properly on their items and cartons. Identification Labs, a division of Bar Code Graphics, is the largest testing laboratory in North America for barcode print quality and works with many major US retailers and manufacturers.
New To GTIN Barcodes – GS1 Barcode Service
Creating & Printing UPC Barcodes
Verifying UPC Barcodes