As the US authority on barcoding, we assist companies from almost every industry. However, the vast majority of inquiries involve ISBN identification for books and UPC codes for products. The questions and answers below cover many of the UPC and GS1 questions we receive daily.
Why do I need a UPC barcode?
UPCs (aka UPC codes) are universal identifiers used to identify items. Using a global identifier, a manufacturer only needs to manage a single identifier for each product rather than proprietary number for each retailer or marketplace they sell their products. In a world without UPC codes, a supplier would have to manage multiple identifiers for each product due to varying retailer requirements and data configuration.
Today, retailers and marketplaces (i.e. Amazon & Ebay) require their suppliers to use UPC identification. Proper UPC identification enables a more efficient supply chain and end customer experience. If your aspirations are to get your products sold in stores worldwide and online, GS1 UPC barcodes need to be part of your immediate strategy.
Do I need a UPC barcode if I am only selling online?
If you are ONLY selling on your own website, you do not need to obtain UPC codes. However, if you plan on selling on Walmart, Amazon or other online marketplaces, you need to use GS1 UPC Barcodes (see definition below). Not only do these online sites rely on the benefits of UPC identification, they also use GS1 UPC barcode identification as an initial step to fend off counterfeit products.
What is GS1 and what is it's role for UPC identification?
GS1 (in the US formerly known as Uniform Code Council (UCC)) is the global standards organization which manages the guidelines for UPC (GTIN) identification and licenses brand specific UPC Company Prefixes or single issue GTIN(s).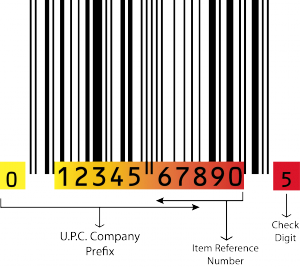 A UPC Company Prefix is the essential building block enabling companies to assign UPCs to their products. For companies with just a few products, GS1 US does provide single issue GTIN(s) with limited usage.
Does GS1 provide barcodes with Company Prefixes?
As a standards organization, GS1 does not provide services and products, but does offer paid educational certification classes. Barcodes and personal support are not provided by GS1.

Most US companies utilize our GS1 UPC Barcode Service since we bundle .eps barcodes and support from a dedicated consultant. In lieu of taking certification classes by GS1, clients rely on our certified specialists to assist with UPC assignment, product data, GTIN case marking and barcode creation.
What is the difference between a GS1 UPC Barcode and discounted UPCs online?
We use the definition of a GS1 UPC Barcode to convey that the UPC has a proper brand licensed Company Prefix. There are deceptive and misleading websites which tempt new companies with cheap UPCs (i.e. $5 each). These "resellers" use UPCs with a shared Company Prefixes and their customers risk getting denied access to retailers and marketplaces. Companies ranging from Home Depot to Kroger to Amazon, check new suppliers UPCs against GS1's database to validate that UPCs are correctly licensed to their suppliers.
What happens if I run out of UPCs with my UPC codes available with my GS1 Company Prefix?
One of the first questions we ask when discussing UPC needs with new companies is; how many individual items to you need to barcode in the next few years? It is more cost effective on a per UPC basis, if you license a Prefix which allows more assignments. The challenge is that you will be paying renewal fees on both the UPCs you have assigned and also those which have not yet been assigned. Please visit https://www.barcode.graphics/how-many-upcs-do-i-need/ for an explanation on how to determine the quantity.
Fortunately, the GS1 system allows for companies to obtain additional prefixes if they run out of assignable UPCs. It is very common for companies to have multiple as they grow or buy additional brands. Our Barcode Consultants can assist with determining which length prefix to license. Even though GS1 is technically a non-for-profit, it is our opinion they encourage clients to get Prefixes with too much initial capacity. Their application for new members also has an immediate option to license more than one Company Prefix, which is not necessary.
If I plan on selling my product overseas, do I need a EAN or UPC? Do I need both?
UPC barcodes are by definition, universally accepted so they can be used around the globe. Up until 2005, companies were challenged with marking their products with either a UPC if they sold in North America or an EAN if they sold abroad. As part of a global initiative, a Sunrise 2005 date was established by which retailers around the globe could read either. For more information, please visit https://www.gtin.info/sunrise/ .
What is the difference between .eps barcode files and printed barcode labels?
Items or labels which have not yet been been printed require precise digital barcode files (.eps). For a barcode symbol to be adequately printed, a precise digital image, with a print compensation factor, needs to be used. Bar Code Graphics has been creating barcode artwork since the inception of the UPC and we are largest supplier of digital barcodes. Items which already have printed packaging or labels typically require an additional printed label which contains a UPC barcode. Printed labels can either be provided on sheets or rolls.
Why does the GS1 Barcode Service consist of two payments?
Bar Code Graphics is the US authority on barcodes and we create the barcodes, manage the UPC product data, and provide comprehensive personal support enabling companies to properly obtain a GS1 Company Prefix and identify their products. GS1 is simply the global standards organization that licenses GS1 Company Prefixes and does not provide barcodes. Every country has a local GS1 office, which manages the prefix assignments for their residents. The payment structure and tools vary amongst country offices. For further information about GS1 and implementation, please visit https://www.barcode.graphics/gs1-us/ .
Can GS1 UPC barcodes be reused or re-assigned?
A fews years ago he GS1 Global Standards made changes which eliminated reusing UPCs (GTINs). Previously, companies were allowed to reuse a UPC (GTIN) after a set period of time which the product was off the market. As of January 2019, UPCs can never be reassigned to another product. To learn more, please visit https://www.barcode.graphics/gtin-standards-update-no-upc-reuse/ .For this reason, it is imperative that your GS1 barcode consultant validate your UPCs before publishing.
What is GTIN.cloud?
The GTIN.cloud is the sole source repository that enables manufacturers to assign and manage their UPC assignments. UPC product data within GTIN.cloud can be exported to other data resources, such as Amazon and Google Merchant center.
The GTIN management function enables companies to assign and activate their GS1 GTINs, associate product data attributes, upload image links, and create digital .eps (printer-ready) barcode files. All entered UPC product data is personally validated by an assigned GS1 barcode consultant before a UPC is published. Since GS1 prohibits the reuse of GTINs, it is imperative that UPC identification and product information are done correctly the first time.
What is the process for companies which provide drug and health products (including hand sanitizers)?
Certain product categories (i.e. pharmaceutical) require companies to have a Food and Drug Administration (FDA) assigned NDC (National Drug Code) or NHRIC (National Health Related Items Code) Labeler Code's as assigned as their GS1 Company Prefix. During the application process, there is a question specifically directed at these types of companies. This GS1 Company Prefix exception ONLY applies to companies who do have an FDA NDC or NHRIC Labeler Code. The GS1 license fee for companies with an NDC/NHRIC is a $2100. The annual renewal for this exception is also $2100 every year.
| Number of Items | GS1 License | GS1 UPC Service | Total Fee | Included Barcodes | |
| --- | --- | --- | --- | --- | --- |
| 1 -10 | $250 | $150 | $400 | 10 files | SELECT |
| 1 – 100 | $750 | $250 | $1,000 | 100 files | SELECT |
| 1 – 1,000 | $2,500 | $1,000 | $3,500 | $1,000 credit | SELECT |
| 1 – 10,000 | $6,500 | $2,000 | $8,500 | $1,500 credit | SELECT |
| 1 – 100,000 | $10,500 | $2,500 | $13,000 | $2,000 credit | SELECT |
To proceed, please click on the appropriate SELECT link. If you have an NDC, please select the number of items your company requires and select the NDC/NHRIC checkbox on the form after checkout. To speak with a UPC support representative please call 800-662-0701 x250 or click on the Chat button below.