In May 2016, Amazon refined their UPC (GTIN) requirements and clearly stated that both new and existing vendors MUST use GS1 UPC barcodes. Click here to view policy update. A GS1 UPC barcode has a UPC (GS1) Company Prefix licensed to the brand owner. Despite this update, many vendors were confused by conficting information published, which may have been old or published by an unauthorized website. Consequently, Amazon has created the term Valid UPC to essentially mean a GS1 UPC barcode.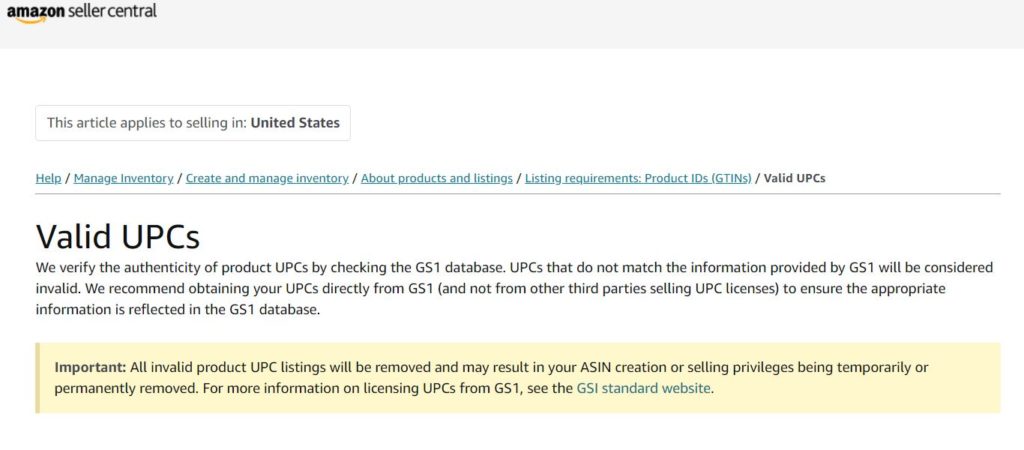 Amazon has now made it clear that they are checking for Valid UPCs by matching the GS1 Company Prefix for all NEW sellers as part of their onboarding process. If Amazon identifies a conflict with your UPCs, their Amazon UPC barcode policy dictates your account will be suspended until correctly identified UPCs are obtained and entered.
There are thousands of current Amazon sellers who are using and have listed incorrect UPCs on Amazon and have now had their accounts temporarily suspended. Unfortunately, all customer reviews are removed so the goodwill these sellers have created will have to be rebuilt.
If you do not recall if where you purchased your UPCs or wish to view the brand owner of a UPC, you can check UPC Company Prefix ownership by clicking here.
Companies who need to obtain Valid UPCs for Amazon with a GS1 Company Prefix in their name should click here.