2019 Retailer GS1-128 Examples
To supplement our newly released report on 2019 GS1-128 Shipping Label Implementation by Retailers, we have compiled a listing of examples of current retailer requirements. Each listed retailer GS1-128 shipping label will include commentary based on the criteria specified in the report. Please contact support@barcode.graphics for a copy of the report.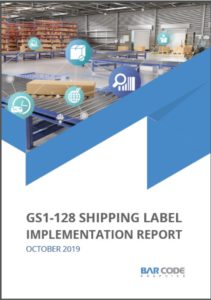 As noted in the 2019 report, variances in retailer requirements are based on the supply chain needs for each respective industry and company. Distribution environments involving automatic scanning/sortation should have explicit detailed guidelines to enable compliance by their suppliers. The following examples are publicly available and do not reside behind any secure firewall.
| AAFES | Click Here to Access |
| --- | --- |
| Alignment With GS1 Standards | Yes |
| Image/Examples (Accurate) | Yes |
| Detailed Sizing Requirements | No |
| ISO/ANSI Print Grade Specified | No |
| Physical Certification Process | No |
| Listed Compliance Offset Charges | Yes |
| Bed Bath & Beyond / World Market | Click Here to Access |
| --- | --- |
| Alignment With GS1 Standards | Not Aligned |
| Image/Examples (Accurate) | Poor |
| Detailed Sizing Requirements | No |
| ISO/ANSI Print Grade Specified | No |
| Physical Certification Process | No |
| Listed Compliance Offset Charges | Yes |
| Belk | Click Here to Access |
| --- | --- |
| Alignment With GS1 Standards | Yes |
| Image/Examples (Accurate) | Yes |
| Detailed Sizing Requirements | No |
| ISO/ANSI Print Grade Specified | No |
| Physical Certification Process | No |
| Listed Compliance Offset Charges | Yes |
| Boscov's Department Store | Click Here to Access |
| --- | --- |
| Alignment With GS1 Standards | No |
| Image/Examples (Accurate) | Yes |
| Detailed Sizing Requirements | No |
| ISO/ANSI Print Grade Specified | No |
| Physical Certification Process | No |
| Listed Compliance Offset Charges | Yes |
| Burlington | Click Here to Access |
| --- | --- |
| Alignment With GS1 Standards | No |
| Image/Examples (Accurate) | Yes |
| Detailed Sizing Requirements | No |
| ISO/ANSI Print Grade Specified | No |
| Physical Certification Process | Not Specified |
| Listed Compliance Offset Charges | Yes |
| CVS | Click Here to Access |
| --- | --- |
| Alignment With GS1 Standards | No (also ref. as UCC-128) |
| Image/Examples (Accurate) | Yes |
| Detailed Sizing Requirements | No |
| ISO/ANSI Print Grade Specified | No |
| Physical Certification Process | No |
| Listed Compliance Offset Charges | No |
| HBC | Click Here to Access |
| --- | --- |
| Alignment With GS1 Standards | Yes |
| Image/Examples (Accurate) | Yes |
| Detailed Sizing Requirements | Yes |
| ISO/ANSI Print Grade Specified | No |
| Physical Certification Process | Not Indicated |
| Listed Compliance Offset Charges | Yes |
| Hibbett | Click Here to Access |
| --- | --- |
| Alignment With GS1 Standards | No (also ref. as UCC-128) |
| Image/Examples (Accurate) | Yes |
| Detailed Sizing Requirements | No |
| ISO/ANSI Print Grade Specified | No |
| Physical Certification Process | No |
| Listed Compliance Offset Charges | Yes |
| JCPenney | Click Here to Access |
| --- | --- |
| Alignment With GS1 Standards | Yes |
| Image/Examples (Accurate) | Yes |
| Detailed Sizing Requirements | Yes |
| ISO/ANSI Print Grade Specified | Yes |
| Physical Certification Process | Yes |
| Listed Compliance Offset Charges | Yes |
| Macy's | Click Here to Access |
| --- | --- |
| Alignment With GS1 Standards | Yes |
| Image/Examples (Accurate) | Yes |
| Detailed Sizing Requirements | No, only Gen Spec link |
| ISO/ANSI Print Grade Specified | No |
| Physical Certification Process | Not Indicated |
| Listed Compliance Offset Charges | Yes |
| Neiman Marcus | Click Here to Access |
| --- | --- |
| Alignment With GS1 Standards | Yes |
| Image/Examples (Accurate) | Yes |
| Detailed Sizing Requirements | No |
| ISO/ANSI Print Grade Specified | No |
| Physical Certification Process | Not Indicated |
| Listed Compliance Offset Charges | Yes |
| Nordstrom | Click Here to Access |
| --- | --- |
| Alignment With GS1 Standards | Yes |
| Image/Examples (Accurate) | Yes |
| Detailed Sizing Requirements | Zones Yes: Barcodes No |
| ISO/ANSI Print Grade Specified | Yes |
| Physical Certification Process | Not Indicated |
| Listed Compliance Offset Charges | Yes |
| Wegmans | Click Here to Access |
| --- | --- |
| Alignment With GS1 Standards | No |
| Image/Examples (Accurate) | Yes |
| Detailed Sizing Requirements | No |
| ISO/ANSI Print Grade Specified | No |
| Physical Certification Process | Not Indicated |
| Listed Compliance Offset Charges | Yes |
| Zappos | Click Here to Access |
| --- | --- |
| Alignment With GS1 Standards | Yes |
| Image/Examples (Accurate) | Yes |
| Detailed Sizing Requirements | Yes |
| ISO/ANSI Print Grade Specified | No |
| Physical Certification Process | No |
| Listed Compliance Offset Charges | Not Specified |