If you do a Google search for the Official UPC database, you will come across numerous official-sounding websites. Unfortunately, none of the information on these unregulated websites should be trusted since the product data is not provided by brand owners. (Click Here To Learn More). There is not a single global database that contains a comprehensive listing of UPCs with associated product information. However, GS1 does provide tools enabling individuals and companies to check the ownership of individual GTINs (UPCs).
GS1 is the global standards organization with local country offices around the globe. Aside from managing identification standards, a critical role of GS1 is the licensing Company Prefix and single GS1 GTINs. There are GS1 tools, both free and paid-subscriptions, which individuals, retailers and marketplaces (Amazon) can use to validate brand ownership.
GS1 Company Database (GEPIR)

GEPIR (Global Electronic Product Information Registry) is the GS1 Company Database that associates a GTIN (UPC) to the registered company. Companies who do not pay GS1 US their continual renewal fees risk having their UPCs (and Company Prefix) disassociated with their company. (see termination letter). GEPIR is publically available and can be used for the following:
Check the validity (format and check digit) of a GTIN (UPC)
Verify the manufacturer of a product
Look up a company's information
Confirm your company's GS1 Company Prefix registration
The GS1 Company Database allows for search by GTIN (UPC), Global Location Number and Compamy Name. Companies who maintain their active status and pay annual fees will have their GTIN/Company Prefix show association to their company. The following illustrations show sample results from both GTIN with a licensed Company Prefix and a Single Issue GS1 UPC (GTIN).
In the example below, the GTIN (UPC) 186356000878 showed that this GTIN is associated to Pacific Shaving Company and their GS1 Company Prefix is 0186356000 .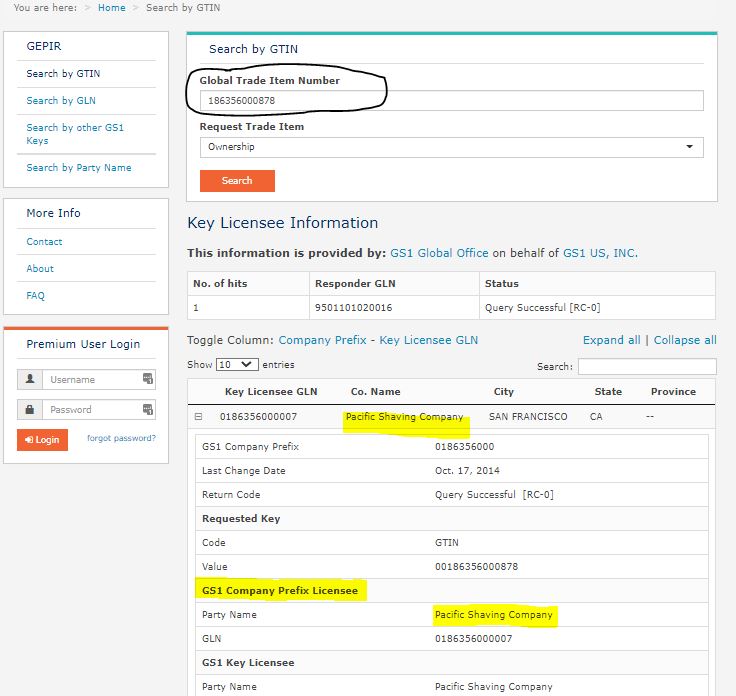 Unlike the above example, this results page shows what displayed for a company with just a single issue GTIN (without licensed GS1 Company Prefix. GTIN (UPC) 195893312214 is associated with CMG Holdings Ltd, Co.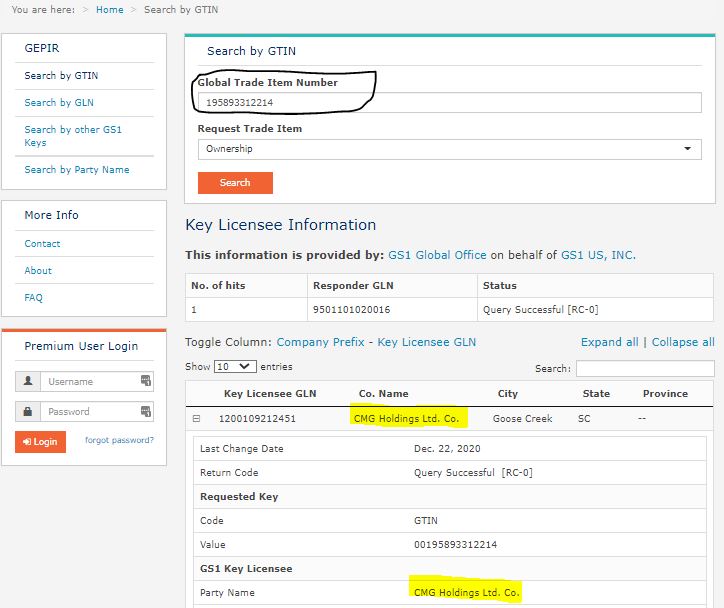 We highly recommend companies check their GTINs against the GS1 Company Database. Since retailers and marketplaces now rely on this database to validate their suppliers, it is imperative that companies keep current.
As the authority on UPC implementation and barcode origination, Bar Code Graphics assists tens of thousands of companies every year, who either are new to UPC barcode or rely on our GS1 ongoing support services. For companies who already have UPCs, we provide annual GS1 Global Support services. 
One of the primary reasons, manufacturers (brands) need to obtain their own Company Prefix or GS1 GTIN UPC is that this is the ONLY way their company information can be associated with their UPCs. Click Here To Correctly Obtain UPC Barcodes.