Amazon has varying channels that enable manufacturers to sell directly to consumers. The Fulfillment By Amazon (FBA) option utilizes numerous Amazon distribution centers around the globe and is strategically used by many companies. Although Amazon does have stated GTIN policies, they also have proprietary identifiers, such as ASIN, and non-standardized processes.
The FBA program requires an Amazon-specific barcode FNSKU label. Each item sent to an Amazon distribution center requires an FNSKU so that it can be tracked throughout the fulfillment process. The required data for an Amazon FBA label can be located in a company's Amazon Seller Central Account.
How To Access Amazon FNSKU Data Fields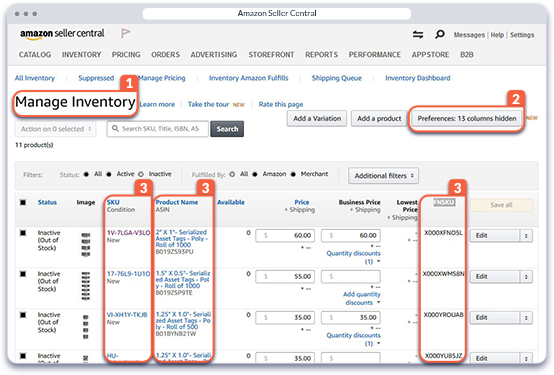 FBA Labels are used to identify items that are set up/added in Seller or Vendor Central. This means that the required data for an Amazon FBA label can be located in a seller's Amazon account.
Go to Manage inventory to view all products
To get the FSNKU column to populate, use the Preferences button on the top of the page
Once enabled, the user should have access to FNSKU, Product Name, and Condition
Amazon suppliers have the following options in regards to labeling products being shipped to Amazon Fulfillment Centers;
Print Amazon Barcode Product Labels from their Seller Account
Order Amazon Barcode Product Labels from Bar Code Graphics, Inc. for $.05/label
Request FBA Services print/apply Amazon Product Labels to your products for $.20/label
Use UPC or EAN symbol for Co-Mingled items
Our printed barcode label service bureau, OrderBarcodes.com, can digitally print and ship labels with your Amazon FNSKU data within 24 hours.
Companies who subscribe to the GS1 Barcode Service/Support programs can obtain .eps barcode files or a label credit which can be applied for printed barcode labels at www.orderbarcodes.com. In addition, companies get an assigned GS1 Barcode consultant to assist with all facets of barcode origination and support so print and data issues do not occur. Our GS1 consultants now support the vast majority of new companies implementing UPC barcodes.
For additional information on How to Ship to Amazon FBA, please visit: https://www.ecomengine.com/sell-on-amazon/ship-to-amazon-fba