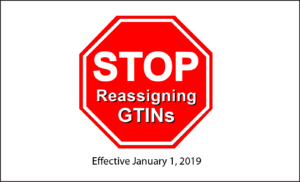 GS1 has just released the latest revision of the GS1 General Specifications Version 19.  The global standards address identification and barcode marking for numerous industries. The vast majority of the retailers follow these specifications.  The GS1 General Specifications have grown to 471 pages.
Please forward this information to individuals in your company who are responsible for barcoding and product/shipment identification. For our GS1 Barcode Service/Support clients, please reach out to your personal consultant for assistance.
Changes to the GS1 General Specifications (Version 19) are as follows:
Section 1 – GTIN non-reuse : IMPORTANT see previous announcement
Section 2 – GS1 Logistic Label – 2D symbols
Section 2 – Multi-pallet trade items
Section 2 – Individual logistic units – attributes
Section 2 – Trade Item Groupings
Section 2 – North-American coupon code updates
Section 2 – Gen Spec continuous improvement
Section 3 – New AI – Optically readable sensor indicator
Section 3 – New AI: Product certificate
Section 4 – GS1 Logistic Label: 2D symbols
Section 6 – GS1 Logistic Label: Refinement of placement rules
To view a copy of the latest GS1 General Specification (v.19) revision, please visit Download PDF .