Three recent reports by GS1 and Longitude (Financial Times), provide valuable insight on characteristics of profitable successful companies. Over the past 6 years $17 billion dollars of retail consumer packaged goods sales have moved away from larger established vendors to small brands. There has never been a better time for a small brand to disrupt a reigning player in a market.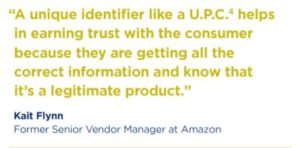 The reports categorized companies as either Growth Leaders (25% revenue growth over 12 mo) or Growth Laggards (revenue decline over 12 mo) and identified common attitudes and processes separating the two groups.  Bar Code Graphics assists thousands of new and established companies every year with UPC/GTIN product identification, and we believe these reports solidify many of the best practices we promote and provide to our clients.
Summary
Most business start out with either a formal or informal business plan which defines the value to which the company hope to bring and identifies key target markets. It is apparent that Growth Leaders add focus towards understanding and establishing omni-channel sales strategies. Today's consumers are looking for and ordering products from a wide variety of sources.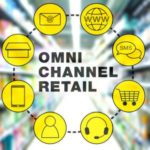 Therefore, it is important for companies not to limit their efforts to a single sales channel.
An essential element for selling products in physical stores or online marketplaces is having verifiable GTINs (UPCs) and complete product information. The term "verifiable UPC" relates to correctly having a GS1 Company Prefix licensed to your company. Although it does function as a monopoly for product identifiers, in doing so GS1 is able to provide the necessary trust factor that the UPCs on a company's products are their own. Retailers and online marketplaces, such as Amazon, rely on this global system to confirm UPCs. New and growing companies can only benefit by licensing their own GS1 Prefix. The alternative, using a discounted online UPC with a shared prefix, limits the scope of where you can sell your products.
Growth leaders recognize the value of providing more than just basic product information. They are much more likely to include product images ¬– more than twice as likely as lagging brands. More than 50% of the laggard group indicated preparing products for sale via external channels is burdensome, and 48% have not developed a long term sales strategy. By comparison, growth leaders are almost three times more likely to use barcodes/UPCs than growth laggards. Few of this lower-performing group recognize the value of UPCs for their business, which suggests they're overlooking the potential that product information has in taking their business to the next level.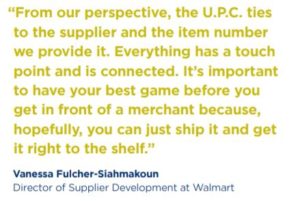 The third take away from the reports is that Growth Leaders collaborated with partners. Growth requires working with partners at every level. These partnerships help brands move beyond the daily struggles of keeping the lights on to building sustainable business models. Partnerships provide guidance and support for small brands, and supplement the limited time and resources of the business owners.
Selecting companies which offer personal ongoing support enables Growth Leaders to have virtual external departments to supplement their core business. Partnering with companies who have extensive experience with your key markets and potential retailers also helps brands sidestep mistakes commonly ensnaring new companies.
Bar Code Graphics' GS1 Barcode Service/Support programs provide tens of thousands of brands assistance with GTIN management and basic product data management. We have long seen first-hand how important item identification and product information are to our clients.  But this report is particularly exciting and validating to us given its broad coverage and methodical approach.  The finding are clear: these elements are truly key to your company's growth and success.
To read the individual reports, please click on the following links;
Powering Up Sales Strategy &  Perfecting Product Information
Building Trust With Customers and Retailers
Partnerships Drive Strategic Growth for Small Brands
Please contact us at sales@barcode-us.com or call us at 800-662-0701 x220.